You know you love to cook when you'll make a dish that no one else in the house will eat.  Case in point… The tradition of making black eyed peas on New Year's Day to help start off the new year on a hopeful note for prosperity in the coming year (good story about that history in the NYT HERE). 
One of my favorite food writers is Michael Ruhlman (who also has some amazing non-food books - scrolll to the bottom of THIS page check out 'Walk On Water').  His latest post on his blog has a recipe for the very black eyed peas I am talking about.  I have never made them before so I figured I would give it a try.
The 'Hoppin John' recipe on THIS page is incredible… So much so that I am thinking that maybe my wife will like it.  She claims to not like black eyed peas but admits that she hasn't had any since she was a kid (30+ years ago).    My 21 year old son? "Too many beans" - my 19 year old daughter? "Not really a fan - especiially with those tomatoes". 
My final product was exceptional… between the bacon & tomatoes… with a small amount of heat.  Just a satisfying and tasty dish.  I highly suggest you try this.  I know I'll make it again… regardless of who else isn't eating it in my house.
While I am in the process of getting this website up and running, I'd like to direct you to my Pinterest page where I created a board entitled 'Food That I Have Made'.  It has my amateur photos and some recipe guidelines for some of my creations.  Due to my wife being Celiac, many of the recipes are gluten free - either naturally or on purpose.
Please visit HERE and have your napkins prepared for the drool… And speaking of drooling, here's a steak salad with chimichurri served over some field greens with diced heirloom tomatoes & slivers of red onion… Yeah… it was pretty good !  Thanks for visiting.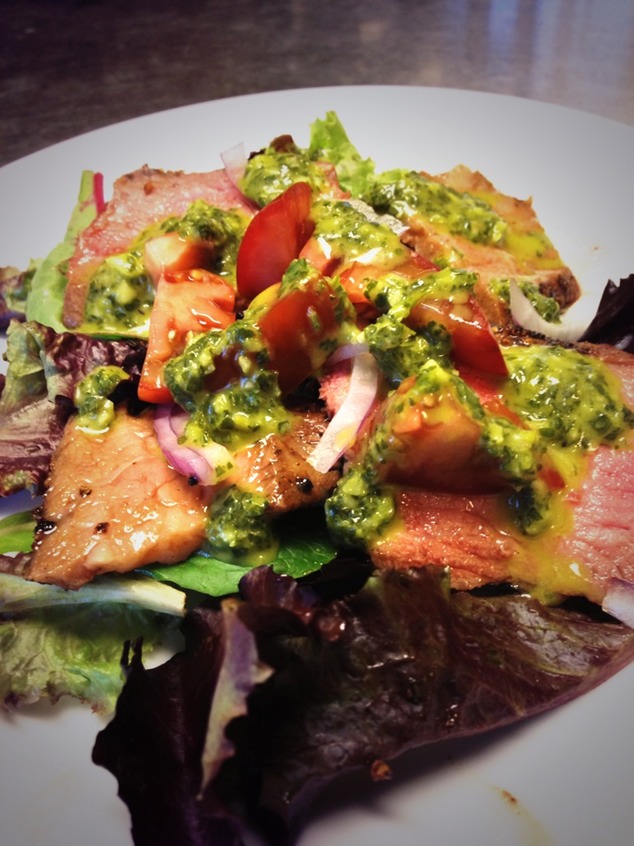 Enjoy !!
~ MT
I love food books.
And by that I do not mean cookbooks.  A cookbook is a collection of recipes - perhaps something I go to when I need to know some basic information like basic ratios of ingredients in a 'standard' recipe.  Cookbooks are useful to me in the same way a dictionary is - basic information but not necessarily a learning tool.
I have enjoyed cooking since I was a kid.  When I was in high school, I would go to friends' houses and prepare a complete italian dinner - sauce, meatballs, sausage & pasta - from scratch.  I would let them buy the ingredients, I'd cook it in their kitchen and then leave it for them to enjoy.  Nowadays, I find terrific satisfaction in the preparing and serving food to my friends & family members.  I've heard it said that preparing food for others is a tremendous show of love.  I would agree with that.
As someone who loves to cook, I look for inspiration to guide me in what I make.  Sometimes that inspiration comes from watching food shows on TV such as Cooking Channel, Food Network or Travel Channel (love me some Bizarre Foods or any show with Anthony Bourdain).  Sometimes my inspiration comes from a visit to my local supermarket - in my very fortunate case, that would be Wegmans here in Rochester, NY - when they offer tastings of featured food items or meals.  Lately, though, I have found a great deal of inspiration coming from food books.
Food books are, in essence, books related to food which may include topics of technique or history or even works of fiction in which food is the main character.  One of the first books I recall reading that did this for me was 'Under The Tuscan Sun' by Frances Mayes.  The rich descriptions of Tuscany and the food as such a focal point just struck me as a pleasure to read on so many levels.  Another one of my 'original' food books was 'Eat This. It'll Make You Feel Better' by Dom DeLuise.  As an Italian, I was particularly taken by his stories of his family and his Mamma and her cooking.  And it has some fantastic, authentic recipes.
More recently, I received as a gift 'Live To Cook' by Michael Symon with Michael Ruhlman (lots of Michael's huh?).  Very much like Dom DeLuise's book, the stories of family & the accompanying recipes really inspire me and what I prepare.  I take their stories and recipes and think 'Hmmm… I bet if I did this and then that, I could get something else good.'  Usually (not always) it works out pretty well.
All of my cooking through the years and my evolution from cookbooks to my earliest food books have increased my desire to acquire more techniques to add to my 'toolbox' for cooking.  This past year, I have either received or purchased several books by my new favorite food book writer, Michael Ruhlman.  As I mentioned, he wrote 'Live To Cook' along with Michael Symon.  He has a newly designed website which is easy to navigate and has in it some gems in regards to recipes for both food & drink.  But for the purposes of this post, I'll focus on his books.
In the past 6 months, I have added to my collection 'Ruhlman's Twenty', 'Charcuterie', 'Salumi' and most recently 'The Making Of A Chef: Mastering Heat At The Culinary Institute Of America' - this last one being one of my favorite books (of any genre, not just food).
I read the comment somewhere that Michael Ruhlman blurs the line between being 'a writer who cooks' or 'a cook who can write'.  Either way, he sure can write.  His use of language and sense of humor - paired with his seemingly endless knowledge of food & technique - makes these books an invaluable addition to my kitchen and something I will be referring to for years to come.  I look forward to salting, brining & curing - as is found in 'Charcuterie' & 'Salumi'.  The basic common sense knowledge - and new things to learn - in 'Ruhlman's Twenty' have already inspired me to create new dishes and has changed the way I approach cooking in general.
It's the last book I mention, though 'The Making Of A Chef…' that has me writing this post.  I am only about half way through and I find myself not able to put it down much in the way a Stephen King or Dan Brown novel might.  It is insightful to see inside the walls of the CIA and to follow the students through their successes and failures.  To meet all of these people through Ruhlman's writing gives you the sense that you've known them all along and that you are making new friends.  The writing is just awesome.  There is a chapter called 'The Storm' which turns out to be a turning point in Ruhlman's own life set against the backdrop of a wicked winter storm.  Very 'King Lear-ish' if you ask me.  And in a food book no less.  A very pleasant surprise for me and a strongly suggested read if this sort of thing interests you.
UPDATE:  Just finished this book.  It was exceptional - really enjoyed the ending.  I was so bummed for it to be over, I went out and got the 'next' book 'The Soul Of A Chef: The Journey Towards Perfection' and have just started reading it… More on that later.
This evolution of food books for me has been an inspiration in that it's cool to learn new techniques which I then apply to my own cooking.  However, it's the stories behind the food - the history or how it inspired others - that gives it depth for me.  I feel a better educated person by knowing more about the wider focus than just a recipe.
~ MT